Try the desk for free, for 100-days. Risk-free, money-back guarantee.
Size Comparison
⚠️ OFFER AVAILABLE ONLY FOR A LIMITED TIME.

Create your ergonomic work setup from scratch with the Basic Bundle containing our bestsellers at highly discounted prices.

Contains:
1x Signature desk of your choice
1x Anti-Fatigue Mat
Specifications & Considerations

Desk Top:

1 ¼" thick solid maple (Pioneer) / walnut (Achiever) / cherry wood (Visionary)
Locally sourced wood
Handmade in Quebec, Canada
Durable matte acrylic finish
Pre-drilled for quick & easy installation

Adjustable Frame:

Height range: 22.4" to 48.4" (without the top on)
4 memory keys
280lbs lifting capacity
3-stage dual motors
Anti-collision technology
Integrated cable management system
Technicals

Packaging dimensions:

24" x 48"

Box size: 28.5" x 52.5" x 2"
Weight (maple): 39 pounds
Weight (walnut): 32 pounds
Weight (cherry wood): 30 pounds

30" x 60"

Box size: 34.5" x 64.5" x 2"
Weight (maple): 60 pounds
Weight (walnut): 49 pounds
Weight (cherry wood): 47 pounds

30" x 72"

Box size: 34.5" x 78.5" x 2"
Weight (maple): 74 pounds
Weight (walnut): 57 pounds
Weight (cherry wood): 55 pounds

Certifications:

BIFMA certified
FCC certified
UL certified
Shipping

Price:

Free! Enjoy free shipping on all orders across Canada.

Lead time:

Get your item(s) in just five (5) business days for orders anywhere in Quebec and seven (7) business days anywhere else in Canada.

Stay up to date on our delivery times: Learn more

Installation service:

We offer a home installation service throughout Quebec. Simply choose this option when checking out, and a member of our team will get in touch with you to schedule an installation date and time slot.
Warranty

Trials:

We are so confident that you will love your item that, if you're not convinced within the first 100 days, we'll take it back completely free of charge!

Warranty:


Desks
Limited 10-year warranty — Learn more

Accessories
Limited 1-year warranty — Learn more
Size Comparison
Meet your standards. Introducing our standing desks.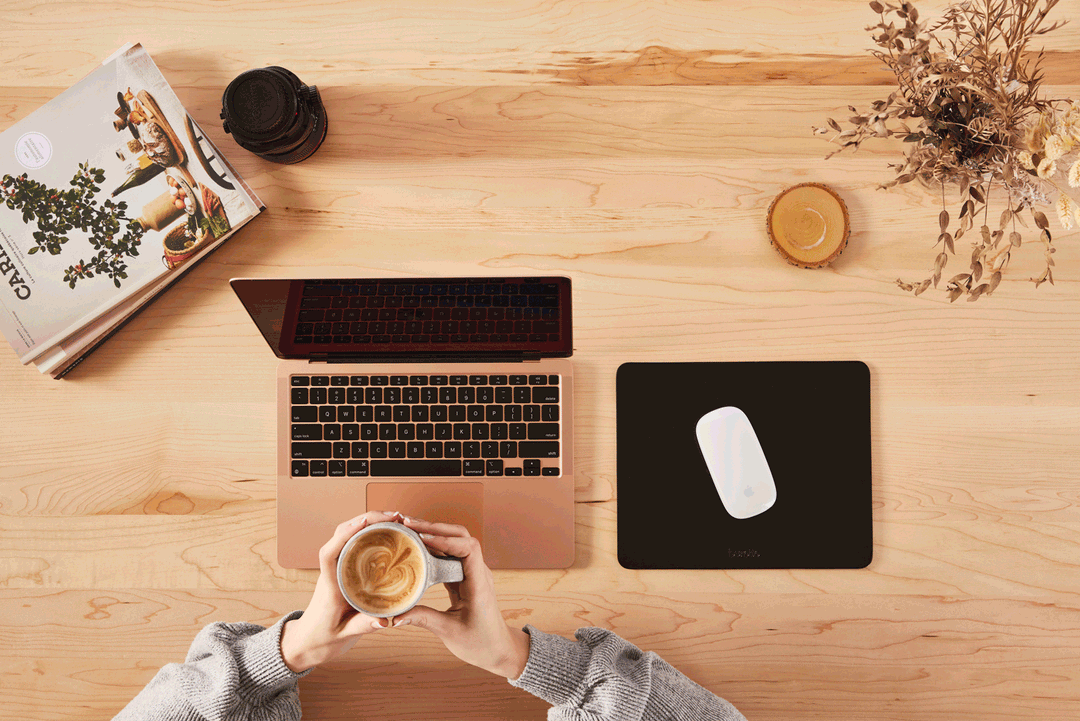 PREMIUM SOLID WOOD DESK TOP
Handmade In Quebec, Canada
All of our Signature adjustable desks are made of the highest quality solid wood. That's what gives them such a modern and charming look. Choose from three wood species (maple, walnut, or cherry wood) carefully selected from our North American forests.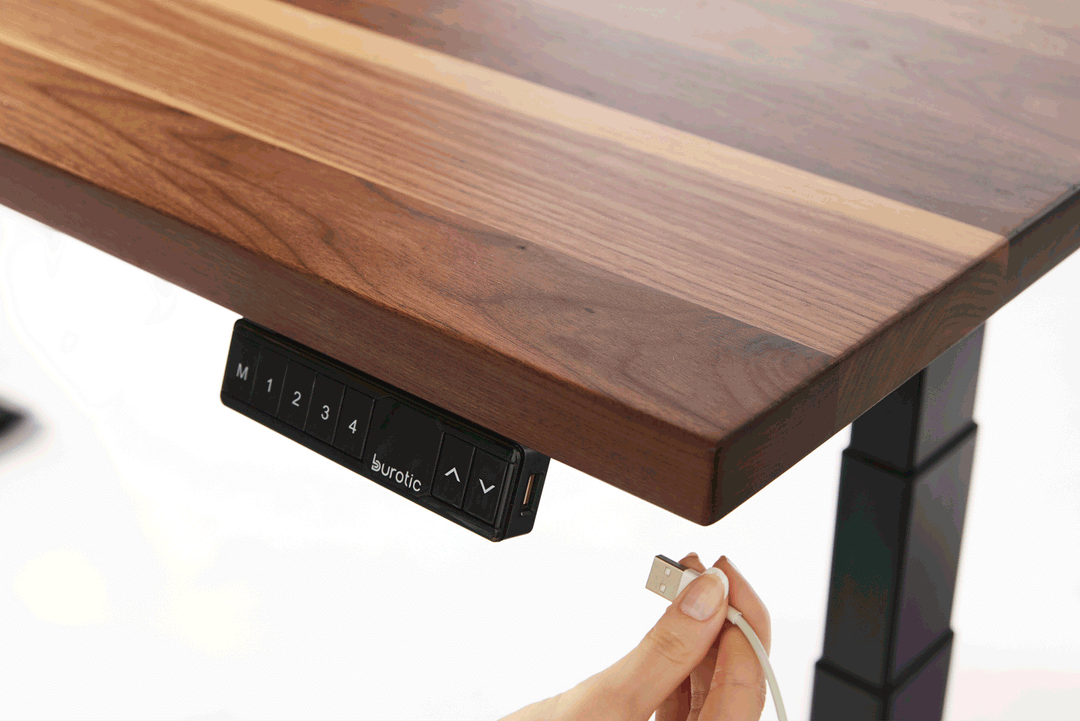 FROM SITTING TO STANDING IN ONE CLICK
A Robust Desk From Top To Bottom
Our Signature desks are equipped with the most advanced and efficient adjustable frame on the market. Alternate between seated and standing work while maintaining all the stability a desk should offer. Equipped with two silent motors (less than 45dB) and 3-stage legs, the Aspire frame elevates the ergonomic standards to a new level.
Available in black and white.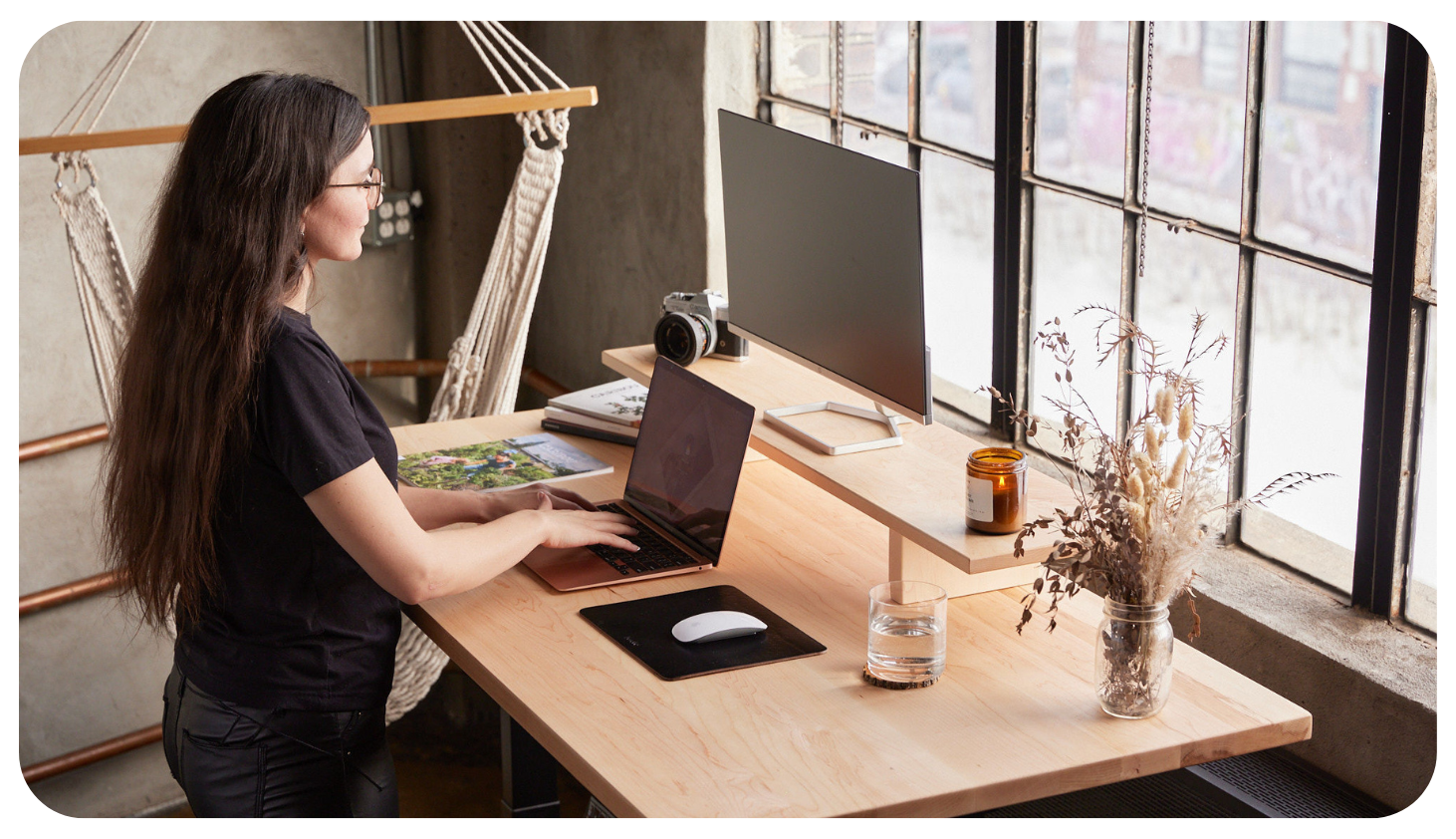 SKYROCKET YOUR PRODUCTIVITY
Work Long Hours Tirelessly
Not only will your new desk look magnificent, but you will also reap maximum benefits for your health and productivity.
Here are some known facts about standing desks:
• Increase productivity by over 45%
• Improve mood and energy level
• Reduce back pain
• Decrease the risk of weight gain and obesity
• Lower the risk of heart diseases
Customer Home Office Inspirations
F.A.Q
What's so special about your desks?

Our Signatures desks are among the few solid wood standing desks on the market, and we've made sure to offer the best quality at the best price. In fact, the solid wood surface is finished with durable matte acrylic offering 50% better protection than the finish offered by our competitors.
Not only that but this surface is matched with the most advanced adjustable frame on the market. Learn more about our Aspire frame here.
Will the top I select be the exact one I receive?

Absolutely! Thanks to our unique feature, you have the freedom to choose your preferred desk surface, ensuring that you will be delighted with the one you receive. Since solid wood is inherently unique, each top is distinct and one-of-a-kind.
Do you offer custom sizes?

Yes, we do! You will be able to calculate the exact price of your custom-made desk here.
Are the burotic desks complicated to install?

Knowing how precious time is, we made sure to offer an installation experience as simple as possible, regardless of your manual labor level.
A detailed installation guide is provided, allowing you to have your desk ready to be used in 25-45 minutes.
The solid wood top is also pre-drilled so you can complete the whole process without a drill.
What happens if I am not satisfied with my desk?

At burotic, we are so confident in the quality of our products that we offer a 100-day satisfaction guarantee allowing you to return your desk at our expense, no matter what the reason is.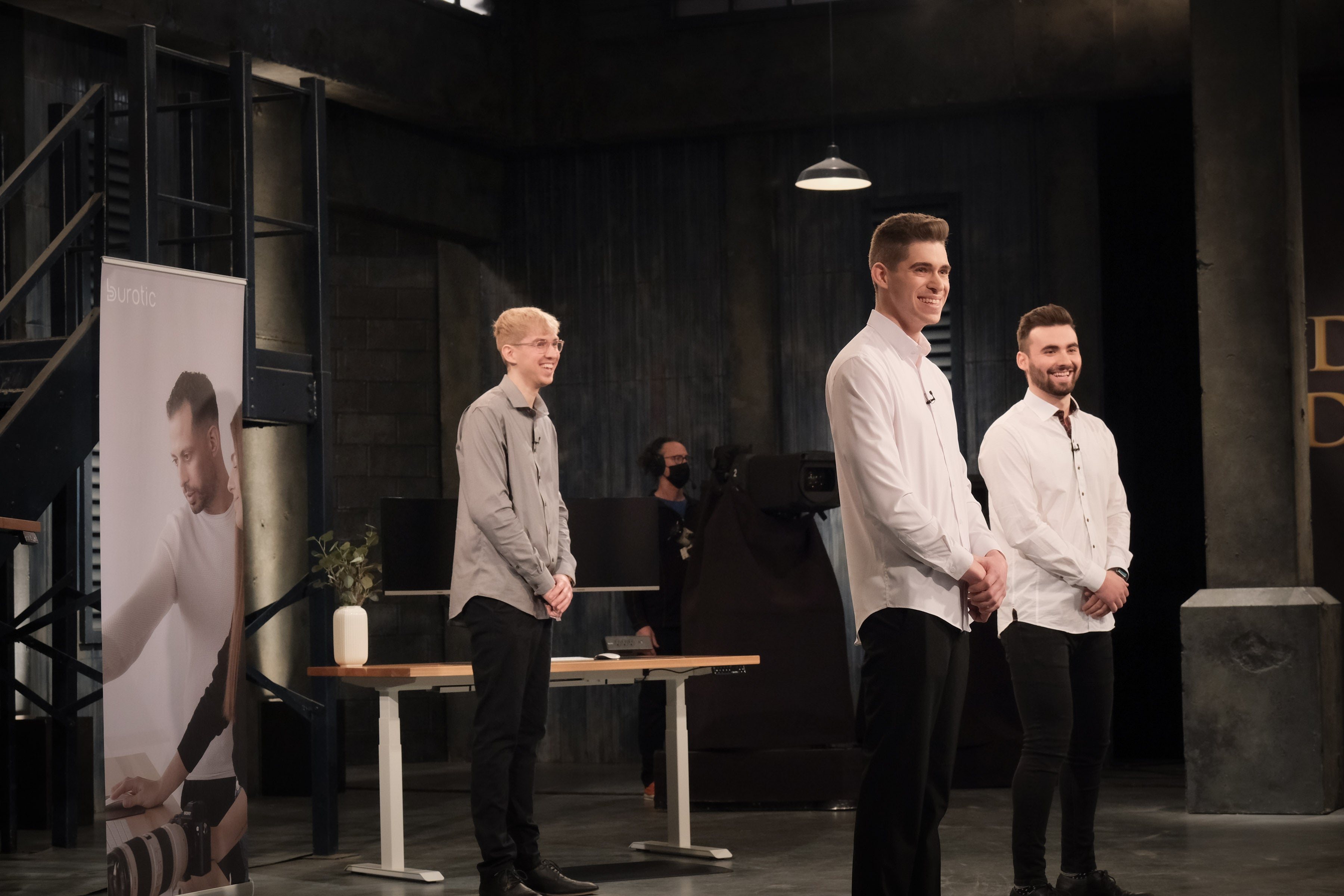 As seen in the french version of Dragons' Den (Dans l'oeil du dragon)
Proudly Handmade in Canada
Incredible Desk and Service
I've only had the desk for a week and used it as inspiration to overhaul my office to do it justice. I'm looking forward to more productive work days without all the clutter I used to have. Also, looking forward to seeing my various therapists (chiro, massage) less frequently now that I have an ergonomic setup as well as reminders to stand up. Thank you for the well-packed items that are gorgeous and well made! The set up instructions are straight-forward. A second set of hands is definitely needed to handle the weight of the wood top with legs.
Ambrosia 30x60
I recently bought a Ambrosia 30x60 table and it is perfect. it is everything I wanted the finish is amazing. Working while standing has helped my productivity tremendously. I highly recommend you buy a desk from burotic the team is really friendly and always there if you have any questions. 5 Star experience from start to finish.
Incredible Purchase Experience of an Impressive Achiever
Absolutely love my first standing desk from Burotic. The team (Alexis and Michaël) offered great support and made this an exceptional purchase experience for me. Thank you!
I live in Toronto and initially placed an order for an Ambrosia Maple, but due to a website glitch the same was not available. However, understanding the urgency of setting up my home office and the price concern for switching it to the Achiever (Walnut), the Burotic team helped me by giving options for the Achiever table top. They updated my initial order with it based on my design choice and without any change in the price. I highly recommend Burotic standing desk for the below reasons:
☑️Quality Solid Wood Table top and Metal stand
☑️Excellent Customer Service
☑️Easy Desk Assembly
☑️Great Packaging
☑️Fast Door-to-Door Shipment
The desk is exactly what I was looking for!
I am frankly impressed with the 30" x 72" Walnut Desk for its exceptional quality.
I made the transition from a desk bought on Amazon to this desk to be able to have 2 monitors in addition to my laptop in order to telecommute. After a few weeks, I see a big difference in my productivity with the quality of the desktop, the functions for lowering and raising it in addition to being able to have 4 pre-recorded settings.
The desk is really large and allows me to be able to multitask in my professional and personal life without any problem.
From the opening of the box to the final assembly, the delay is quite reasonable (around 1 hour with a screwdriver in hand).
Customer service contacted me twice to let me know at each stage where my pre-order was delivered and for this reason I greatly appreciate the service offered and I am happy to be able to help a young local business.
I have attached photos to show what the setup might look like once assembled.
Thank you once again to the Burotic team for their excellent service from start to finish!
5 stars
I am frankly impressed with the Desk for its exceptional quality , your services was very high and professional . I will definitely recommend your products to my friends.
Thank you again
Great desk and hassle-free delivery
I'm really happy with my desk.
On delivery, the guy explained to me how to mount it on his own. I succeeded without problems but I had to take 3 hours to do everything and put the boxes away. (I'm not a manual guy 😄). It's super packed to avoid damaging the desktop. All the boxes ended up on the sidewalk and recycling picked up everything except the polystyrene in the trash.
Really happy to buy a quality product from Canada!
Solid
Everything was perfect. Lots of attention to detail. Efficient service and quality product. Kudos for your business.
Easy, easy, easy!
The delivery was fast, the service excellent and the instructions for assembling and using the desk are EASY! I love my new desk in my anti-fatigue mat, the color is great and the mat is comfortable. I highly recommend, it's worth the price x1000