Try the desk for free, for 100-days. Risk-free, money-back guarantee.
Size Comparison
The burotic power bar is the perfect add-on to your standing desk for a more refined workspace.

Whether it's to tidy up your cable mess or simply to have everything in one place, its 3 power outlets, 1 USB socket, and 1 USB-C make this accessory the perfect addition.
Specifications & Technicals

3x Power Outlets: 125V
1x USB Charger Port
1x USB-C Charger Port
Max Power: 1440W
Dimensions: 2.32" X 8.42" X 1.1"
Power Wire Length: 4.92' 
UL & FCC Certified
Installation

On-Desk:

Mounted on a C-Clamp system that can be fixed anywhere on the edge of your desk top.

Desk Thickness: 0.5" to 1.75"

---

Under-Desk:


Mounted on a bracket system with 4 screws that can be fixed anywhere under your desk top.
Shipping

Price:

Free! Enjoy free shipping on all orders across Canada.

Lead time:

Get your item(s) in just five (5) business days for orders anywhere in Quebec and seven (7) business days anywhere else in Canada.

Stay up to date on our delivery times: Learn more

Installation service:

We offer a home installation service throughout Quebec. Simply choose this option when checking out, and a member of our team will get in touch with you to schedule an installation date and time slot.
Warranty

Trials:

We are so confident that you will love your item that, if you're not convinced within the first 100 days, we'll take it back completely free of charge!

Warranty:


Desks
Limited 10-year warranty — Learn more

Accessories
Limited 1-year warranty — Learn more
Size Comparison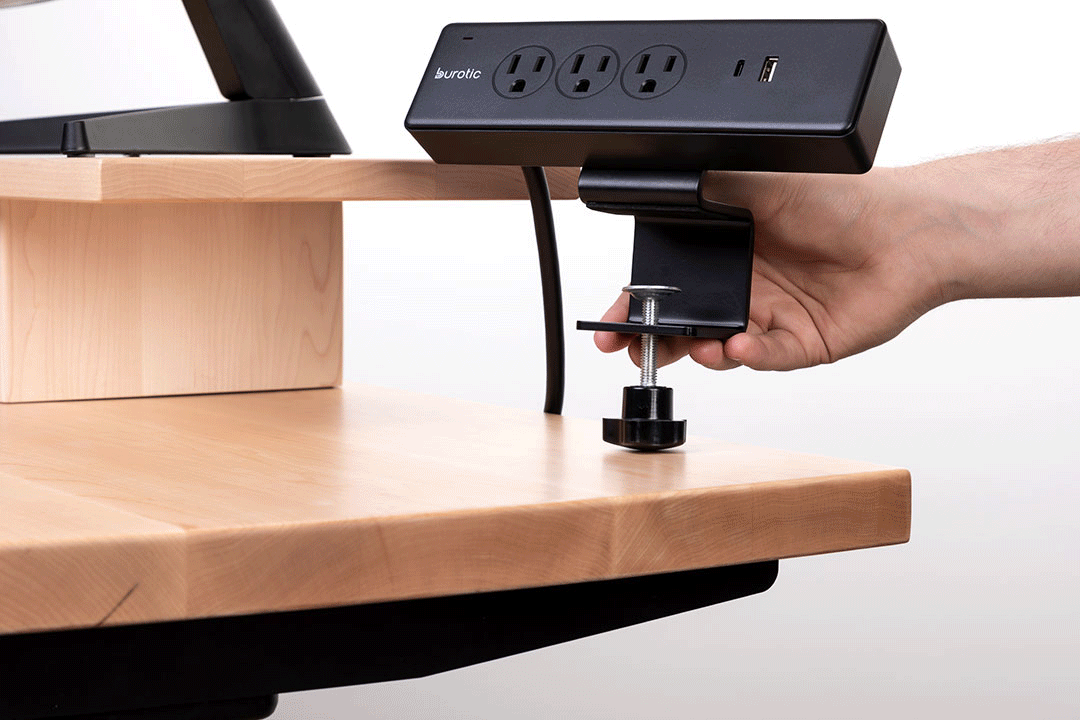 MORE POWER
Supercharge Your Workspace
The burotic power bar offers all the power needed to support your work tools and make your workspace as functional as possible. At your fingertips is the possibility of connecting your monitors, computer, or cellphone. All your electronics are protected by the built-in surge protector.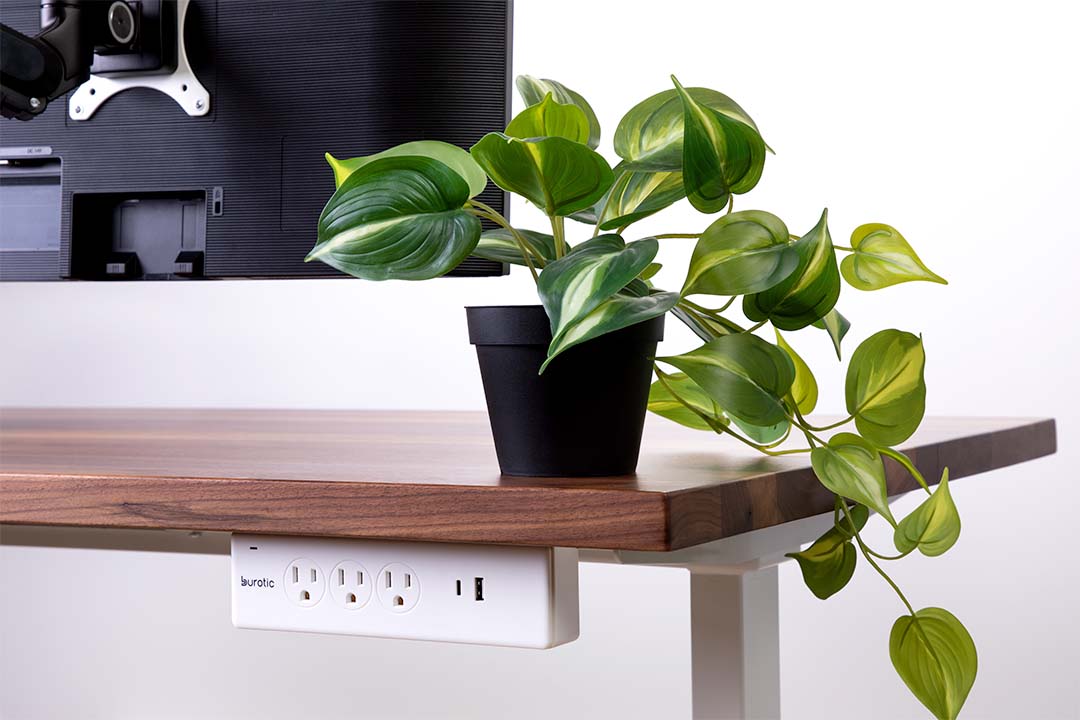 A NEW ERA
More Than Just Power
The era of old, bulky power bars is now over. Indeed, adding a power supply should not negatively impact the aesthetics of your work environment. Available in black or white, the burotic power bar will add a touch of elegance to your office.
So Good!
Thank you Burotic Team for building a product of such good quality, this is a huge improvement to my home office :)
Service A1
Service et livraison A1 rien à dire encore une fois au dessus des attentes. J'en prend note pour essayer de donner une aussi bonne expérience client à mes clients de construction/rénovation.
Dommage par contre je suis passer l'autre jours à vos bureau en pensant pouvoir acheter directement à votre salle de montre, malheureusement on c'est frapper à une porte barrer.
Nous sommes ravis d'apprendre que vous avez eu une expérience aussi positive avec notre service et notre livraison ! Nous mettons tout en œuvre pour offrir la meilleure expérience client possible. Concernant votre visite à notre salle de montre, nous tenons à nous excuser pour le désagrément. En effet, celle-ci fonctionne uniquement sur rendez-vous afin de mieux vous accompagner et vous offrir une attention personnalisée. Si vous souhaitez planifier une visite à l'avenir, n'hésitez pas à nous contacter pour prendre rendez-vous. Nous serons ravis de vous accueillir et de vous faire découvrir notre gamme de produits. Merci pour votre compréhension et pour l'intérêt que vous portez à nos services !
Bonne prise
Construction solide, la visse de serrage fonctionne bien, c'est très utile d'avoir plusieurs prises sur le bureau a porté de main
Bonne prise
Construction solide, la visse de serrage fonctionne bien, c'est très utile d'avoir plusieurs prises sur le bureau a porté de main
A1 quality and service
Before buying, I chatted with the company. The person took the time to answer all my questions. I was sold before I even ordered! I chose the Visionary desk with the mat. the product is of very high quality. It corresponds exactly to my expectations. What's more, everything was delivered to my house 48 hours later by a nice delivery man who works for Burotic. A great Canadian company that is focused on quality and customer experience. I highly recommend !
* This positive review was not sponsored :)
Parfait
Facile à installer et permet un excellente gestion de l'alimentation du bureau :)
Practical power bar, easy to move to accommodate our needs