Try the desk for free, for 100-days. Risk-free, money-back guarantee.
Size Comparison
vi·sion·ar·y
adjective
(especially of a person) thinking about or planning the future with imagination or wisdom.

Cherry Wood — a lesser-known species that brings a creative touch to any room.
Specifications & Considerations

Desk Top:

1 ¼" thick solid maple (Pioneer) / walnut (Achiever) / cherry wood (Visionary)
Locally sourced wood
Handmade in Quebec, Canada
Durable matte acrylic finish
Pre-drilled for quick & easy installation

Adjustable Frame:

Height range: 22.4" to 48.4" (without the top on)
4 memory keys
280lbs lifting capacity
3-stage dual motors
Anti-collision technology
Integrated cable management system
Technicals

Packaging dimensions:

24" x 48"

Box size: 28.5" x 52.5" x 2"
Weight (maple): 39 pounds
Weight (walnut): 32 pounds
Weight (cherry wood): 30 pounds

30" x 60"

Box size: 34.5" x 64.5" x 2"
Weight (maple): 60 pounds
Weight (walnut): 49 pounds
Weight (cherry wood): 47 pounds

30" x 72"

Box size: 34.5" x 78.5" x 2"
Weight (maple): 74 pounds
Weight (walnut): 57 pounds
Weight (cherry wood): 55 pounds

Certifications:

BIFMA certified
FCC certified
UL certified
Shipping

Price:

Free! Enjoy free shipping on all orders across Canada.

Lead time:

Get your item(s) in just five (5) business days for orders anywhere in Quebec and seven (7) business days anywhere else in Canada.

Stay up to date on our delivery times: Learn more

Installation service:

We offer a home installation service throughout Quebec. Simply choose this option when checking out, and a member of our team will get in touch with you to schedule an installation date and time slot.
Warranty

Trials:

We are so confident that you will love your item that, if you're not convinced within the first 100 days, we'll take it back completely free of charge!

Warranty:


Desks
Limited 10-year warranty — Learn more

Accessories
Limited 1-year warranty — Learn more
Size Comparison
Meet your standards. Introducing our standing desks.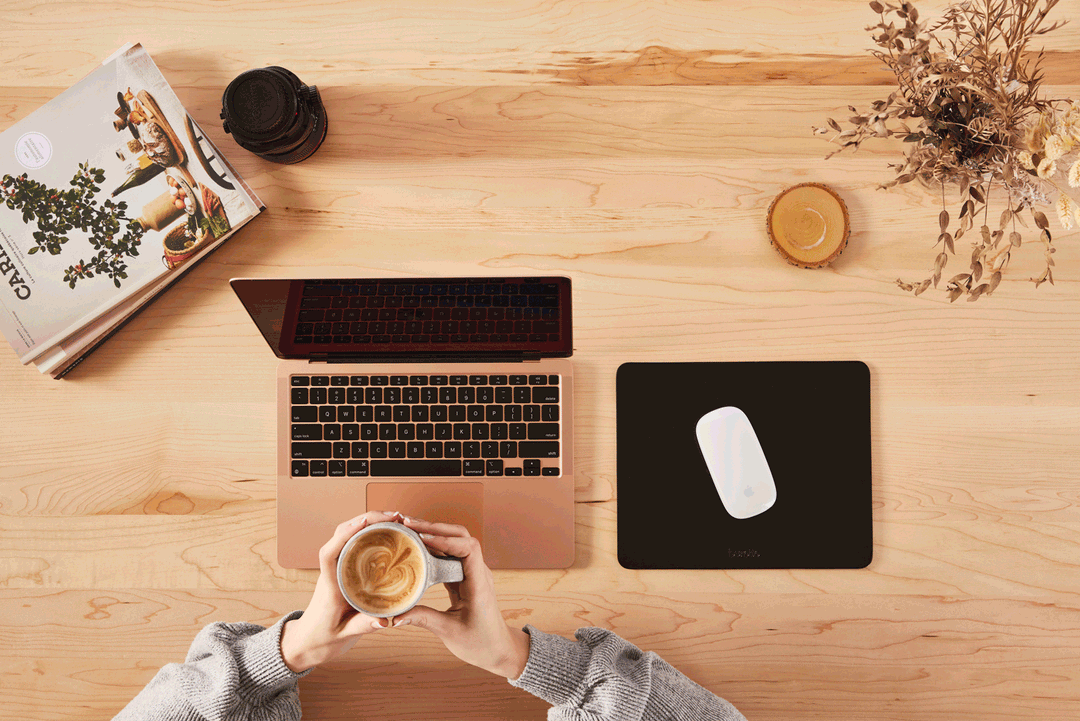 PREMIUM SOLID WOOD DESK TOP
Handmade In Quebec, Canada
All of our Signature adjustable desks are made of the highest quality solid wood. That's what gives them such a modern and charming look. Choose from three wood species (maple, walnut, or cherry wood) carefully selected from our North American forests.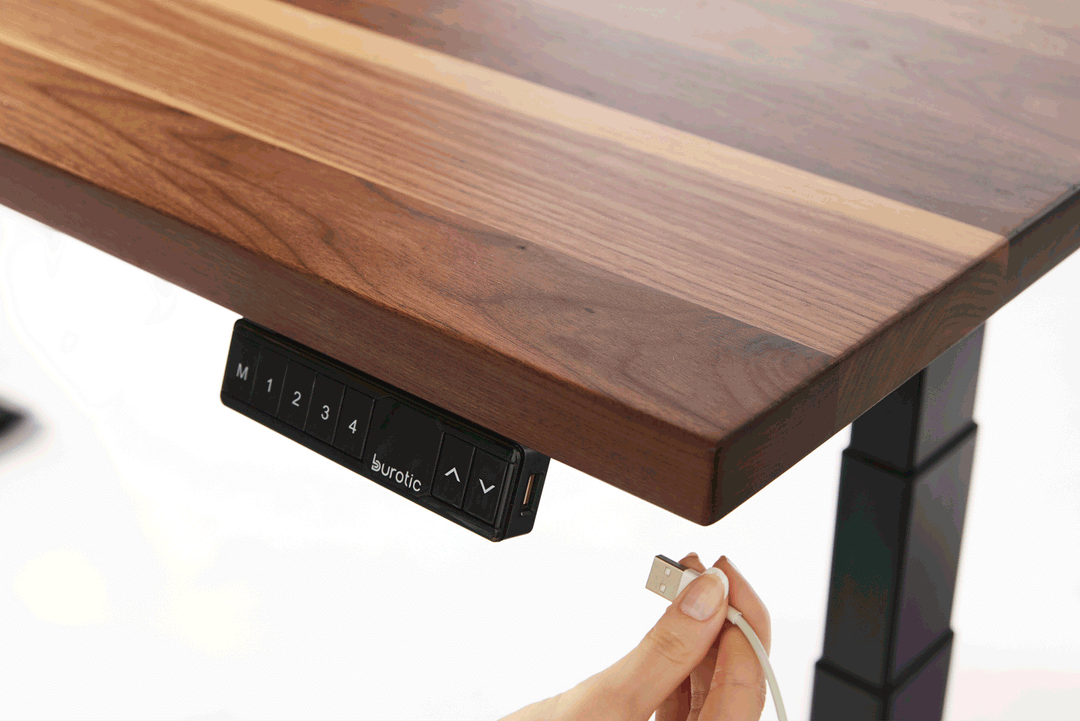 FROM SITTING TO STANDING IN ONE CLICK
A Robust Desk From Top To Bottom
Our Signature desks are equipped with the most advanced and efficient adjustable frame on the market. Alternate between seated and standing work while maintaining all the stability a desk should offer. Equipped with two silent motors (less than 45dB) and 3-stage legs, the Aspire frame elevates the ergonomic standards to a new level.
Available in black and white.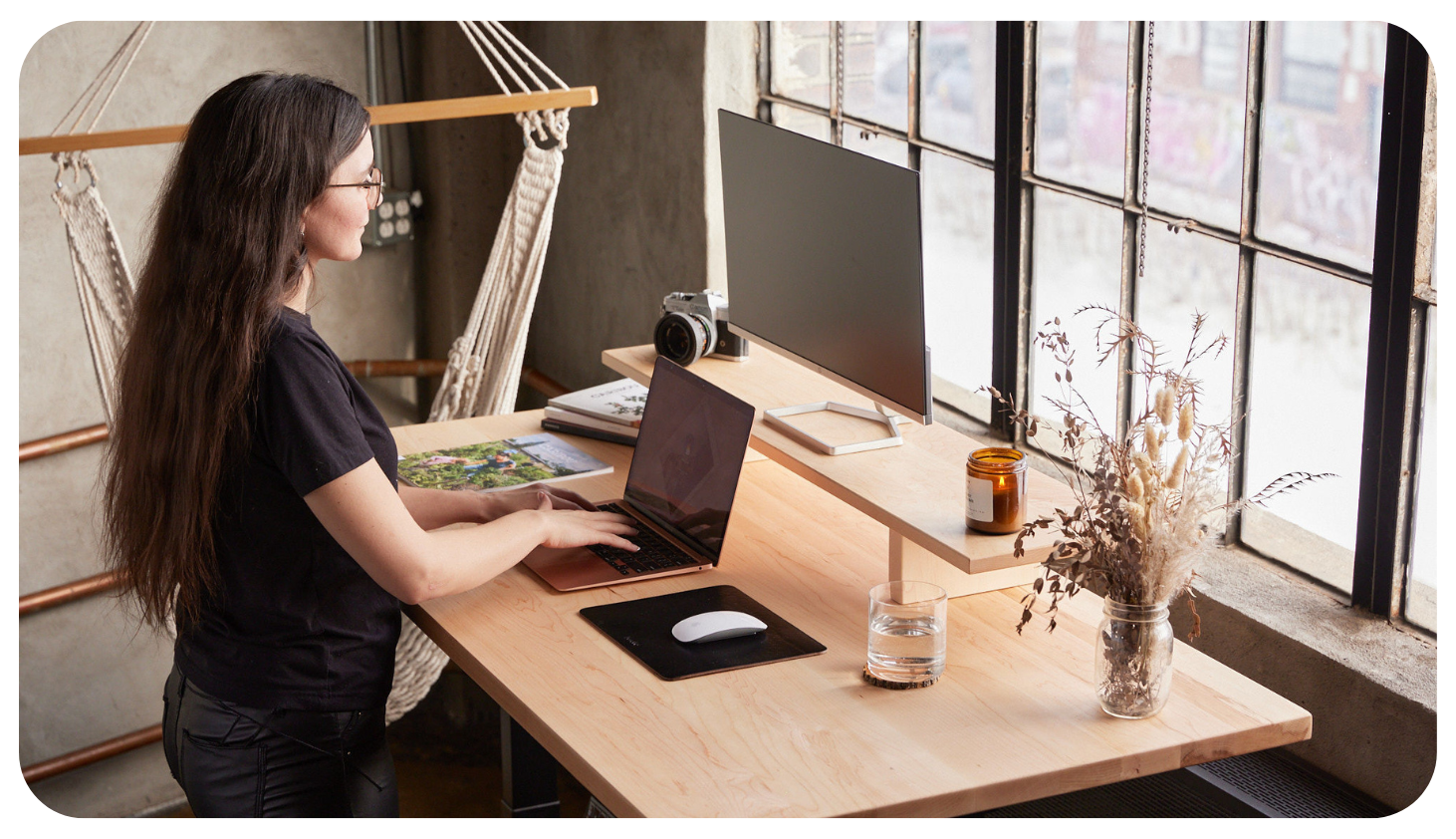 SKYROCKET YOUR PRODUCTIVITY
Work Long Hours Tirelessly
Not only will your new desk look magnificent, but you will also reap maximum benefits for your health and productivity.
Here are some known facts about standing desks:
• Increase productivity by over 45%
• Improve mood and energy level
• Reduce back pain
• Decrease the risk of weight gain and obesity
• Lower the risk of heart diseases
Customer Home Office Inspirations
F.A.Q
What's so special about your desks?

Our Signatures desks are among the few solid wood standing desks on the market, and we've made sure to offer the best quality at the best price. In fact, the solid wood surface is finished with durable matte acrylic offering 50% better protection than the finish offered by our competitors.
Not only that but this surface is matched with the most advanced adjustable frame on the market. Learn more about our Aspire frame here.
Will the top I select be the exact one I receive?

Absolutely! Thanks to our unique feature, you have the freedom to choose your preferred desk surface, ensuring that you will be delighted with the one you receive. Since solid wood is inherently unique, each top is distinct and one-of-a-kind.
Do you offer custom sizes?

Yes, we do! You will be able to calculate the exact price of your custom-made desk here.
Are the burotic desks complicated to install?

Knowing how precious time is, we made sure to offer an installation experience as simple as possible, regardless of your manual labor level.
A detailed installation guide is provided, allowing you to have your desk ready to be used in 25-45 minutes.
The solid wood top is also pre-drilled so you can complete the whole process without a drill.
What happens if I am not satisfied with my desk?

At burotic, we are so confident in the quality of our products that we offer a 100-day satisfaction guarantee allowing you to return your desk at our expense, no matter what the reason is.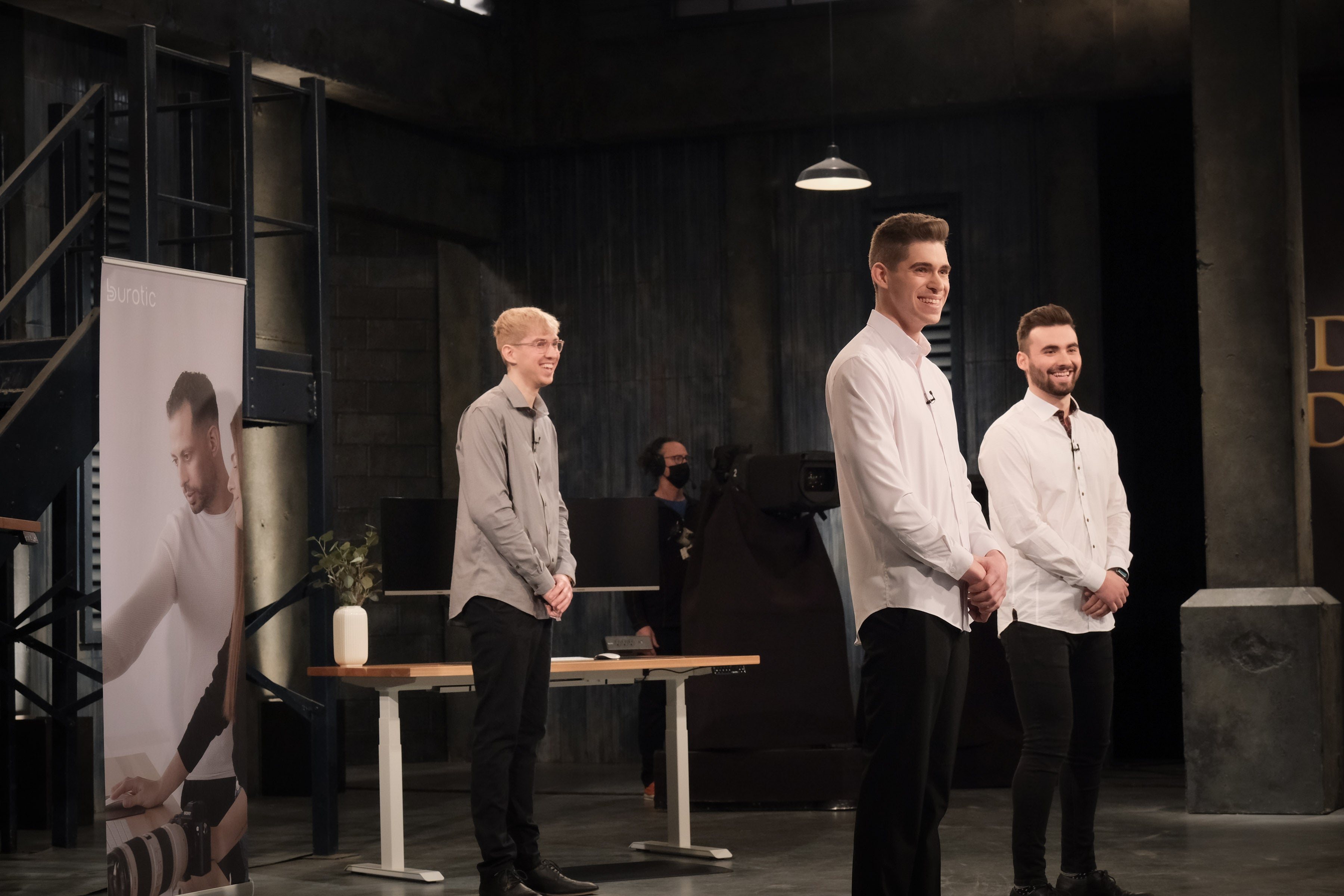 As seen in the french version of Dragons' Den (Dans l'oeil du dragon)
Proudly Handmade in Canada
Quality product! Very satisfied!
I am very happy with my experience with burotic! Excellent customer service, we were well advised. Quality product from Canada, fairly easy to assemble. I recommend their products!
magnifique
J'adore! facile à monter! trés bonne qualité.
Parfait en tous points
Bonjour!
En résumé : je capote sur mon nouveau bureau! J'aurais dû m'en procurer un bien avant... Il est parfait en tous points : ultrabeau, solide, bien conçu, pratique et bon pour ma santé. Un gros merci à toute votre équipe qui a amélioré grandement ma vie au bureau. Je suis maintenant heureuse de travailler, car je me fatigue moins. Je me suis aussi procuré le tapis d'appoint pour travailler debout, et je le trouve parfait. :-)
La seule chose que je regrette, ce sont les deux passe-fils. Je n'en ai finalement pas besoin. Avoir su, je n'en aurais pas mis. La surface n'aurait pas été percée.
Voilà!
Merci pour tout! Excellent service et produits de A à Z! En plus, la livraison est plus que rapide! Je recommande votre entreprise à tous les travailleurs et toutes les travailleuses de bureau.
Marie-Claude Blackburn
Saguenay
Bon produit et livraison rapide
Visionary × 1 30" X 60"
Bonne qualité de bois et pattes solide. L'avenir dira si c'est durable pour longtemps.
J'adore mon nouveau bureau!!
Quel bonheur d'avoir un bureau de cette qualité pour travailler. Merci Burotic!
Très satisfaite
Très satisfait de mon bureau ajustable qui est unique et fait au Québec!